"If you were to look at those brains, you couldn't tell the difference between people who were interacting through music and people who were interacting verbally" – Edward Roth
Music has been with us for thousands of years as a form of entertainment, communication, celebration, and mourning. There are so many different emotions that music can help us to express, and it is a language that we share universally, as well as one that everyone can understand.
The style of music that we listen to most and enjoy may change every decade, but that sense of communication and feeling always remains. If you, or someone close to you, suffer from mental health conditions, you may find that they listen to music quite a lot, or even play it.
Music has a way of helping us express emotions that we don't even understand ourselves, and can put these feelings into meaningful lyrics, or just a tune that resonates with every fibre of our being.
For many, music is a lifeline that keeps them tethered to the world, and without it, so many of us would be lost entirely. It is because of this link that music therapy was developed, and it is a great way to learn how to channel your feelings and combat mental illness. As someone who suffers from crippling anxiety and waves of depression, I have always been interested in trying this form of therapy out.
Whether you like to play the music or listen to it, you might be surprised to discover how beneficial this form of treatment can be, and in this extensive article, we look at the different ways in which music therapy can boost mental health.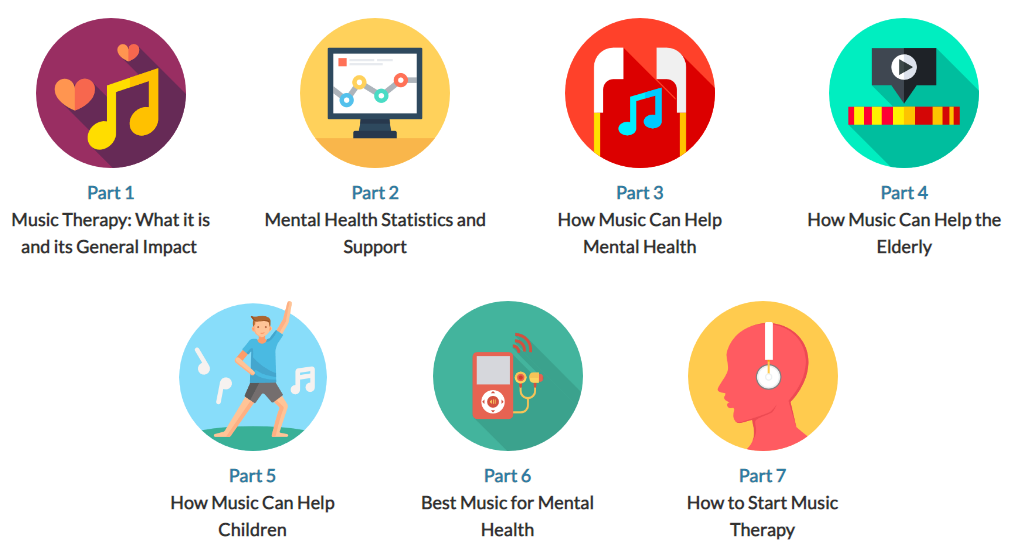 What is Music Therapy?
Music therapy is classed as a form of expressive therapy that works to improve physical and mental health through the expression of emotions. There are two forms of music therapy, and these are called active and receptive. In the former, you will create music with your therapist or group (depending on the type of therapy you have sought).
This helps you to deal with emotions, alleviate stress, and can even relieve the symptoms of conditions like Alzheimer's (something we will look at later). Receptive music therapy, on the other hand, is where you listen to music while you draw or partake in other relaxing activities.
In short, music therapy tends to consist of three potential activities: playing music, singing, or listening to music. You can either create your own music or learn to play specific pieces that you will practice and develop over time – it depends on your personal preferences. You also have plenty of choices, as you can decide what kind of music therapy you take as well as the type of music that you play.
One thing that makes a lot of people nervous is the fact that they do not know how to play a musical instrument. The great thing is that you don't need to worry about that. Music therapy tends to involve instruments similar to the following: Drums, Cymbals, Wood blocks, Bells, Simple harps, Xylophone, Tambourines, Maracas.
These are basic instruments that don't require skill or knowledge, and you can still have a great deal of fun playing them. Plus, they are just as expressive as a guitar or piano.
What Can it Do for Mental Health?
So how does this form of therapy impact mental health, and what kind of general advantages can it have? We will look at the ways in which it can help specific mental illnesses later, but for now, here is what you can expect it to do for you as a whole.
For starters, music therapy starts conversation, and it gets you talking about topics that you would have otherwise found difficult to discuss by having you rework lyrics, but also analysing the words that go with some of the songs you love the most. It creates a relaxed environment in which to talk, and one that doesn't feel frightening or like actual therapy – allowing you to talk about past and present feelings alike without fear of judgement.
Leading on from this, you may also get the chance to write your own songs. This engages the creative parts of your mind, and rewards you with a sense of pride and self-worth. You can choose the instruments that go with the way you are feeling and create something truly expressive.
Through playing the instruments and improvising new melodies, emotional expression is encouraged, as is better socialisation – especially if you are in a therapy group. It allows you to explore different ways of expressing emotion, and the sounds that are associated with things like rage, joy, and grief. You can also use it to learn how to control these emotions over time, using the music to transition between them.
You can listen to music in order to regulate your mood, and this is because of the way in which music is repetitive and engages the neocortex of the brain – calming you and reducing the desire to be impulsive. Music therapy will help you to stop matching the music to your mood, as depressing music can leave us stuck in a loop – a symptom that we explore later on.
This teaches you better habits when listening to music, and can leave you with a boosted mood. To summarise, here are the top things music therapy can help you with:
Express yourself and talk about feelings you find difficult to process/discuss
Deal with past trauma and emotions
Improve social skills and emotion regulation
Give you better faith and confidence in yourself
Mental Health Statistics and Support
Before we move onto how music can help with specific mental health issues, here are some interesting statistics for you to look at, displaying how many people (roughly) ​in the USA and UK​ suffer from mental health issues and try to commit suicide.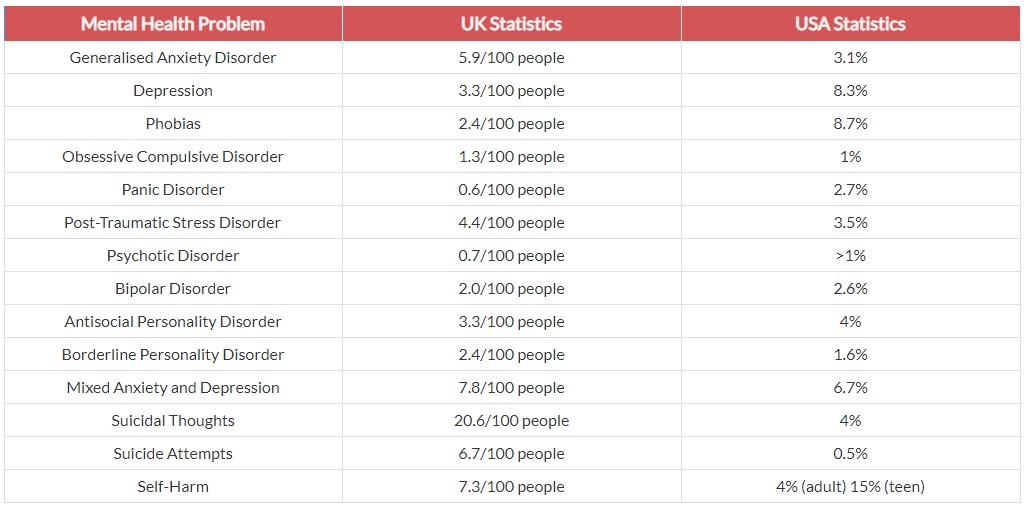 Never feel as though you are alone if you are struggling with your mental health. There are people you can call for help no matter where you are or what time it is. Below, you will find the top numbers to call for the UK and the USA if you find yourself in need of help.
UK: Samaritans (24/7) 116 123
USA: Suicide Prevention Lifeline (24/7) 1-800-273-TALK (8255)
How Music Can Help Mental Health
Music therapy has only really become popular over the past couple of years, and as a result, there is not as much research as we would like for every mental health condition. To help you as much as we can, we have taken the mental illnesses with the most research and evidence, placing them here so that you can see the ways in which music therapy can help, and maybe even apply them to yourself if we are not able to cover it here.
Anxiety (General and Social)
Anxiety comes in many forms, from a mild version that causes some disturbance to a crippling beast that you just can't shake. Regardless of the form you live with, it is a difficult illness to have, but also one that might be able to benefit from the excellence of music therapy.
When listening to music, or creating it, the levels of cortisol in our bodies is lowered dramatically, and this also decreases your heart rate, blood pressure, and stress levels. It creates a more relaxed environment, and the longer you spend listening to/creating it in a chilled location, the better you are going to feel. Plus, it creates an enhanced feeling of satisfaction and pride when you create something.
Social anxiety works in much the same way, and spending some time listening to music will help you to feel calmer and more confident in your abilities and the plans you have made. Case studies have shown that patients who underwent music therapy for their anxiety ended up feeling less anxious and more relaxed by the time it was over, and this is a very positive step forward.
Depression
One of the things we look at later on is the fact that sad music can actually make you feel more depressed than you were before, and so you need to try something different. Depression can be hard to cope with, regardless of how severe or mild your strain is, and music is often a great tool to help combat these feelings of failure and inadequacy.
NHS studies found that those who took music therapy courses were less likely to drop out of the sessions and had a higher attendance rating than those who took part in normal counselling. After three months of music therapy, the depression levels in the patients were much lower than when they left – especially when compared to the group that was receiving standard care.
Music can also reduce your blood pressure, leaving you feeling more relaxed and comfortable while you listen to tunes or create new ones. Being able to create something beautiful also offers you a sense of validation and self-worth, while also providing you with a good dose of serotonin to boost your mood and leave your day ending on a brighter note.
On the whole, music therapy gets you to socialise with others and express yourself, while also giving you the chance to grab onto a little happiness while you ride the wave out and start feeling a little normal again.
PTSD (Post Traumatic Stress Disorder)
Whether you have been through singular or multiple traumas, there is a chance that you may have PTSD. This often consists of feelings of anxiety, tension, and dread, as well as vivid nightmares (or night terrors) and flashbacks to the event in question. Any way you slice it, this condition is not a kind one, and it can be very difficult to live with and try to overcome.
Studies have shown that PTSD can be successfully calmed with music. They show that music can actually reduce prominent symptoms of PTSD like emotionally-dysregulating intrusions, avoidance, mood swings, arousal, and high reactivity. It can lead to an improved ability to function properly, meaning that you can try to live your life as normally as possible once the music therapy starts to kick in.
The music works by triggering a release of good chemicals and hormones throughout the body, like dopamine and serotonin. These are able to work to distract the body from negative thoughts that have started, but also help to boost your mood overall so that you can start to feel a little better in yourself.
The music travels through the brain and to the auditory cortex, which is linked to emotion, memory, and body control, so your mind can work together to create a more calming environment.
OCD (Obsessive Compulsive Disorder)
Contrary to popular belief, OCD is not all about cleaning and washing your hands. It is also intrusive thoughts that won't leave you alone and harmful habits that you never seem to be able to stop. It can be a stressful way to live, and one that feels as though you never get any respite from. Music can provide a little escape from your own mind, and be very beneficial while doing so.
There is a lot of pent-up frustration with OCD, and studies by Jose Van Den Hurk have shown that playing music can help those with OCD to properly express the way they feel over time, and as they become more comfortable around their therapist.
This form of expression can even lead to physical talks about the way they are feeling and what they are struggling with. Music therapy can also increase spontaneity and the willingness to try something new and unpredictable.
The OCD mind is often locked in routine, and the notion of doing something that has not been planned gets your mind out of that and has you focus on better and more positive things. It shuts down the thoughts that have been flooding through your mind because it is flowing and does not get stuck in loops like your head.
ADHD (Attention Deficit Hyperactivity Disorder)
While it is most commonly associated with children, ADHD does last into adulthood, and it can be just as difficult to cope with. A lack of concentration and focus, as well as seemingly endless energy, can leave those that have the condition feeling drained and frustrated. The mind has too much going on, and there feels like it's impossible to refocus it.
Music therapy has been shown to increase the amount of dopamine produced by the body, and this is the neurotransmitter responsible for concentration and working memory. People with ADHD have low levels of it, and so music provides a good and increased dose to keep things running smoothly. It also engages both sides of the brain, helping them to become stronger and also boosting creativity.
Due to both sides being activated at once, it also means that you can improve your concentration, and the distracted part of the mind is able to focus on the music while you concentrate on something else. This is part of improving multi-tasking as well as audio-processing and smoother thought processes.
Structure is an important part of life for those with ADHD, and music is always structured in some way – whether it's in the lyrics or the very beat itself. The fact that it is so organised has a soothing effect, and also means that those with ADHD can start to learn how to lead more ordered lives. This is very positive because the ADHD mind needs a lot of routine to function efficiently.
Autism
Like ADHD, autism is a condition that lasts for life, and there are millions of adults across the world who have autism. It is a spectrum disorder, and it changes the way we think, feel, and behave. Symptoms can vary depending on where you are on the autism spectrum, and so music can yield different results depending on who you try it with.
There are many autistic adults that are non-verbal, and this makes trying to communicate a very stressful and frustrating task. However, music has been shown to aid this process – giving them a language that they can use to talk to those around them and tell everyone exactly how they feel. There have even been some cases where they have started to use words as well as the music, which is a massive breakthrough.
For everyone on the spectrum, it is a new way to communicate, improving social skills while also reducing feelings of loneliness and isolation. Since those with autism tend to show a higher interest in music than the average person, it is a great way to get people engaged and talking to each other.
Much like those with ADHD, people with autism also like structure and routine, something that music is full of, and it can invoke a sense of calm, as well as further interest in creating set rhythms of their own.
Insomnia
It is a surprisingly common condition, the inability to fall asleep at night because the mind is racing with thoughts. We all have a hormone called noradrenaline, and this is what causes us to be watchful and alert, which is great when we are awake, but not so much when we are sleeping.
If you have too much noradrenaline in your system, you will feel more stressed and anxious, as well as find yourself completely unable to sleep. It can affect your ability to function, but listening to music is able to help – even if it's just for 45 minutes before you fall asleep.
It can lead to much better sleep quality, improved mood, and even improved concentration. Once you are able to fall into a regular sleep pattern with the help of your music, you may even start to benefit from deeper sleep – leaving you very well rested.
Read more:
How Music Can Help the Elderly
How Music Can Help Children
Best Music for Mental Health
How to Start Music Therapy
Source: How Music Helps with Mental Health – Mind Boosting Benefits of Music Therapy, by Will Tottle
Generally speaking, soft and steady rhythms seem to be the best choice for most conditions, and it has an amazing way of reducing our stress levels, relieving tension, and generally boosting our mood. Music is a wonderful tool that we do no use enough, and hopefully, this will start getting you interested in seeing if music therapy is something that can work for you.