At least some of the science stories which appear in newspapers and magazines, or on television and radio, result form press releases – brief, stylised reports which are widely circulated.
Your institution may employ professional press officers to write its press releases, but you may still have to write one yourself.
While some reporters reject all press releases as junk mail, other are selective and know a piece of genuine news when they see it.
It pays to liaise with your information office, to supply it with newsworthy stories, and to make sure that it is sending interesting press releases to the appropriate publications.
Good press releases are written in the style of a news story.
The press release reads like a short news story. It could be published almost 'as is' by a lazy journalist. The text clearly contains the name of the scientist concerned and his affiliation. It also contains a contact number.
This is important, because an interested journalist can follow up the press release to get more information from the scientist concerned.
To guide you in the process of creating a press release we would like to give you some tips:
Ensure that the scientists, the "object of the investigation" and the results or conclusions reached are clearly identified;
Ensure that is explicit what impact or relevance the subject can have for the community;
Ensure that is written in a brief and simple way, avoiding the use of "scientific jargon";
Ensure that you use short sentences.
Ensure that you identified "what, who, when, where, how and why"
Ensure that you referred to the name of the scientist involved and his host institution;
Ensure that you have inserted a direct contact of the scientist (in case the journalist wants to contact him/her);
Ensure that you targeted the press release correctly;
Ensure that your press release is accompanied by an image (with appropriate size and resolution – at least 1024 × 768) that illustrates it;
To simplify we give you an example of the three phases of a news story. We start from the scientific article, to the writing of the press release, and we show you the final result published in the media.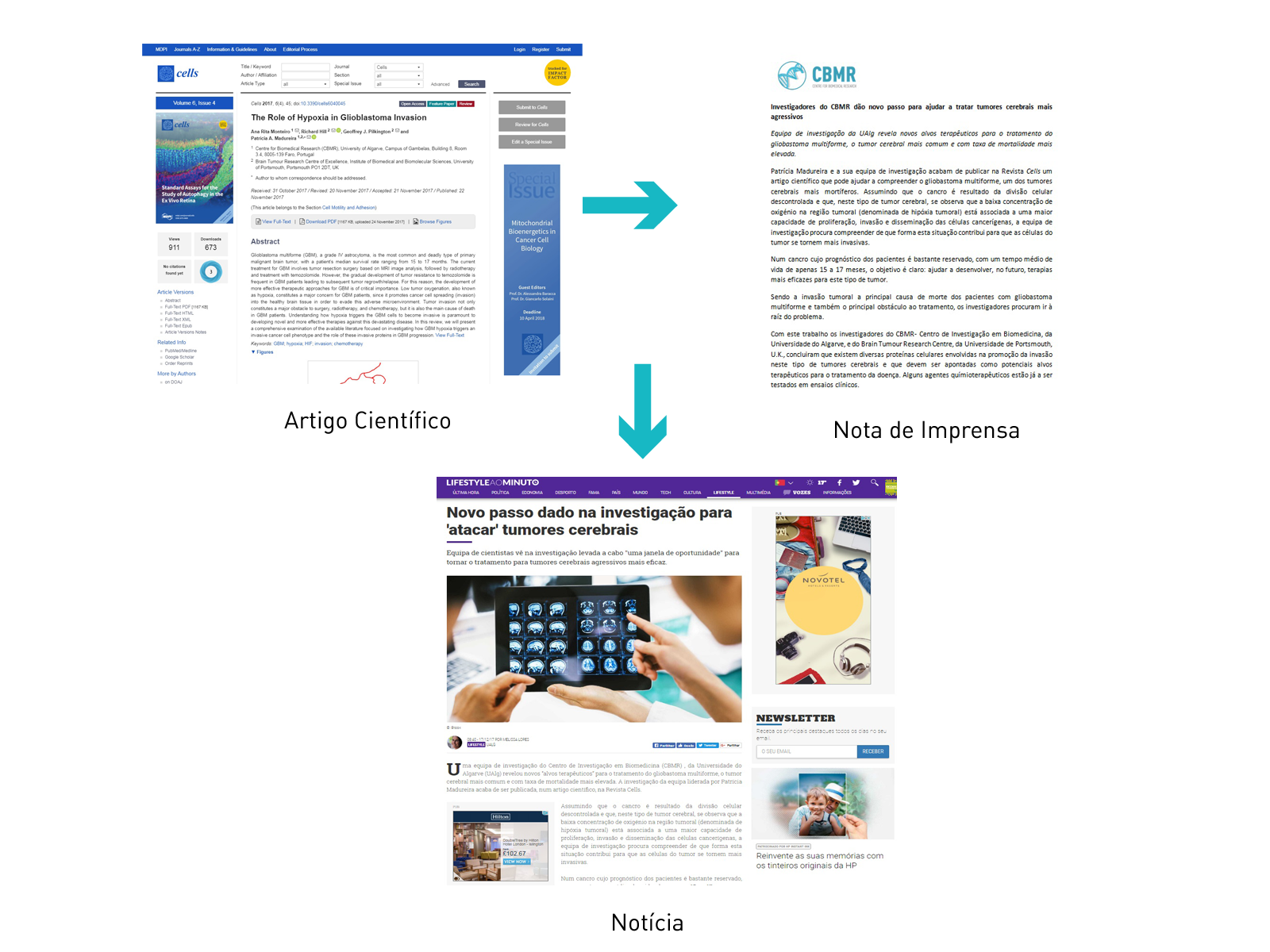 To guide you in the process of creating a press release we would like to give you some tips…